I saw this tag on Modern Witch's Bookshelf and just knew I had to do it. What a great excuse to take a bunch of Buzzfeed/ Epic Reads quizzes and who doesn't love that?
THE RULES
Take all the quizzes down below and record your answers somehow. 

NO CHEATING. You get one shot to take each quiz!

Use this post to give credit to the creator Loretta @ The Laughing Listener tag her on twitter @LaughnListener so she can see everyone's answers!!

Tag some friends to spread the fun!
---
RED QUEEN 
I really enjoyed the first two books in the Red Queen series but my audiobook from the library was due back before I was done so I never finished King's Cage. I really should finish this series at some point. You can take the Red Queen character quiz here.
WHO AM I? I am Mare!
"Where would we be without the Lightning Girl?! You hold tight to your principles and are always willing to sacrifice yourself to protect others. But your impulsiveness can sometimes get in your own way. Make sure you give yourself a break every once in a while!"
I am totally happy with this result! Who doesn't want to be the main character? lol
---
SHADOWHUNTERS
I have actually never read this series and recently decided that I probably never will. There's just too many books for me to commit too. You can take the Shadowhunters character quiz here. 
WHO I AM? I am Charlotte Branwell & Mark Blackthorn!
"You may be underestimated and some may count you out, but you're a serious person when you need to be, and take responsibility very seriously. You're incredibly loyal (though it may not seem like it at times), and your friends are lucky to have you."
I don't know who these people are but I'm loving the explanation!
"You may come off as stand-offish at first, but once a new friend earns your loyalty, they have it for life. Not without good reason. You've been through your fair share of struggles and are careful to protect yourself from more."
Again, I don't know these characters but this is spot on!
---
HUNGER GAMES
I LOVE The Hunger Games. For awhile I was even telling people this was my favorite series. Which is funny because love triangles are my least favorite trope. Somehow, this one doesn't bother me though. You can take The Hunger Games character quiz here.
WHO I AM? I am Effie Trinket!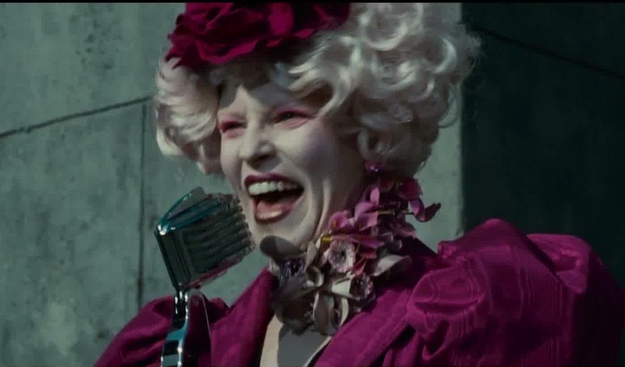 "Well, you're certainly no shrinking violet, are you? You stand out in a crowded room and like the finer things in life. But despite your flamboyant nature you are one of the kindest and loving people out there and a dear friend. You may be surrounded by sorrow from time to time but you'll always be upbeat, because you're you. Keep on smiling."
What? This is so not me. Flamboyant? That has never been used to describe me. I am dying laughing over here!
---
HARRY POTTER
I love Harry Potter and there are so many characters I would love to be compared to! You can take the Harry Potter character quiz here. 
WHO I AM? I am Neville Longbottom!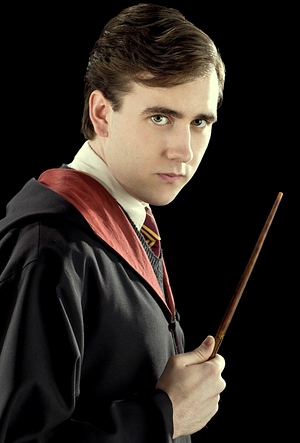 "You're awkward and clumsy and hate being the center of attention. But you're brave and big-hearted and people can always trust you to help them out in a bad situation."
Honestly? I was secretly hoping to get Neville. Hermione has a special place in my heart but I have grown to love Neville more and more over the years and with each rearead of Harry Potter.
---
A COURT OF THORNS AND ROSES
Interesting choice to do series by the same author but here we are. I haven't read this one either. Eh. You can take the A Court of Thorns and Roses quiz here.
WHO I AM? I am Rhysand, High Lord of the Night Court! "A prince of darkness with a heart of gold, you're the most powerful High Lord in Prythian. Despite your smoldering good looks and mind-crushing powers, you still manage to make time to appreciate art and nature a few close friendships. You'd give your life for those you love, and sell your soul to keep them safe."
I don't know anything about this series but I can totally get behind this explanation!
---
THE RAVEN CYCLE
I haven't read this series yet but I loved The Scorpio Races (by the same author) so this is super high on my TBR. I'll have to look out for whatever character I get when I read the series! You can take The Raven Cycle character quiz here. 
WHO I AM? I am Blue Sargent! "You are outspoken, and walk to the beat of your own drum. You've always been different, and take pride in your individualistic nature. Although you try to maintain a rebellious streak, you are consistently told that you are sensible. Remember, don't kiss any strange boys!"
I'm thinking I will relate to the character about Blue but there will probably be a character I relate to more.
---
TWILIGHT
I did read this series and I have no shame in admitting it or in admitting that I loved it. I can see how it was a bit problematic now but anything that gets teens reading is a good thing in my book and I won't apologize for things that bring me joy. You can take the Twilight character quiz here.
WHO I AM? I am Victoria!
"Yeah, no one better cross you. Mess with you and it's a death sentence. You're not one to play games and are willing to do whatever it takes to reach your goals — no matter how bloody it can get. But life doesn't always have to be filled with hate! Just blood. Lots of blood."
Weird choice Buzzfeed.
---
FOLK OF THE AIR
I was going to say I had never heard of this one but then I clicked on the quiz and realized this is the series name for The Cruel Prince. Haven't read it but at least I've heard of it. You can take the Folk of the Air character quiz here.
WHO I AM? I am Locke!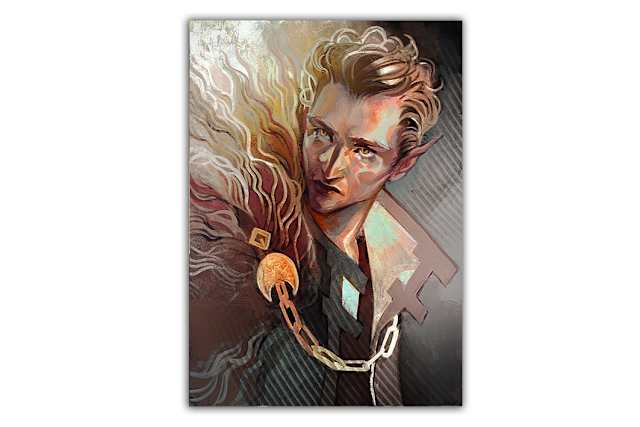 "You have a way with words and aren't afraid to use them. You're a natural charmer and people tend to like you right away."
Haha well I'd like to think this is true!
---
THE LUNAR CHRONICLES
I love fairytale retellings but somehow haven't read this series yet. I bought the first two books though and am hoping to change that soon! You can take The Lunar Chronicles character quiz here.
WHO I AM? I am Kai!
"After the death of his mother and father Kai becomes Emperor at a very young age. He is kind and cares deeply for his people and country. Other world leaders believe he is too young to lead and try to pressure him into doing what they want. He always chooses what is right for his people even if he must sacrifice his own happiness."
I love this one too! I can't wait to read the series and meet Kai. 
---
Wow doing tags takes a lot more time than I realized! I want to do more though because I think it's a good way to get to know each other in this community. Do you like doing tags? What's a good one that I should do?